Alpes-de-Haute-Provence is a beautiful destination where Provence welcomes you through the many lavender fields of Valensole. But this department has much more to offer. Beautiful river gorges such as the Gorges de Verdon where you can enjoy the azure blue water, cute authentic mountain villages and many other activities. And in winter you can even do some skiing. In summer it is wonderfully warm and sunny. In short, Alpes-de-Haute-Provence is a perfect holiday destination!
Barcelonette
Nice Alpine village which is especially interesting for the active nature lover. You can enjoy walking and cycling here. Also Lake Serre-Ponçon, located in the Hautes-Alpes is not far away. Here you can swim and you have many opportunities for water sports.
Castellane
This beautiful village is nicely hidden between the mountains. In high season it is a tourist village and you will find many restaurants and terraces. Right next to the village is a walking path that takes you all the way up to a church on top of a cliff. Here you get a beautiful view of the area. Et Lac de Castillon, a great clear blue lake with nice beaches, is only a 5 minute drive away.
Digne-les-Bains
The capital of the department and therefore one of the larger towns in the region. The place and the region around it are known for the lavender. Many hot springs have been found around Digne, which contain various minerals and have been in use for hundreds of years.
Sisteron
Sisteron is a beautiful and photogenic place. It is located on the river Durance and at the foot of two high cliffs. The village actually consists of two parts, which are connected by a bridge over the river. At the top of the cliff is a beautiful citadel, from where you get a beautiful view of the city. You can also learn all about the history of the citadel and Sisteron itself.
Forcalquier
A beautiful medieval village situated on a hill and among the lavender fields, it couldn't get more idyllic! In the village is a beautiful church which you can visit and it is also nice to walk through the beautiful streets.
Moustiers-Sainte-Marie
This medieval and picturesque village is situated against an impressive cliff. It is known for the pottery and you will find plenty of shops that sell it. From the village a cool path goes up to a chapel. Here you get a very nice view of the area.
Plateau de Valensole
Who doesn't know Valensole? The scent and colors of the long, expansive fields of lavender are an extremely popular attraction. For the most beautiful photos you go when the sun is already setting, then the colors are soft and pink. And an additional advantage is that the worst heat of the day is over! The lavender blooms from mid-June to mid-July. The lavender is then harvested.
Gorges d'Oppedette
A walk through this beautiful gorge takes you back to nature. The gorge is about 2.5 km long and in some places the rocks are 200 meters high. In several places viewpoints have been made where you can look all the way down. Bring good walking shoe legs. The tour is not suitable for smaller children and people with reduced mobility, as it is a best challenge in some areas.
Gorges de la Méouge
Beautiful gorge with clear blue water where you can swim. In several places you will find fresh pools surrounded by large stones and small waterfalls. You can also discover the canyon by walking through it. Bring good water shoes!
Gorges du Verdon
Perhaps the most famous gorge in France is that of the Gorges du Verdon. This is perhaps due to the azure river that flows through it. Here you can enjoy canoeing. The river flows into the Lac de Sainte Croix, where the water is as blue as in the river. Here you can swim and relax on the beach.
Lac de Castillon
Lac de Castillon is the second largest lake in this region, after the Lac de Sainte Croix. It is another beautiful blue lake, idyllically situated between the mountains. You can swim or rent pedal boats and explore the lake and the various beaches.
Réserve géologique de Haute-Provence
Near Digne-les-Bains you can find a beautiful nature reserve. A lot of fossils have been found here. It is the largest protected reserve in Europe. For example, there is a meter-high rock wall with more than 1500 fossils of ammonites in it. There is also a fossil of an ichthyosaur, a kind of reptilian fish, very impressive!
Réserve animalière des Monts d'Azur
Animals are kept in this reserve, including bison, wild horses and boars. You can visit the reserve through a safari and the guide will tell you a lot about the area and the animals. You can get very close to the animals, which is certainly fun and interesting. There is a restaurant and you can stay overnight. Note: opinions about the restaurant are divided.
PRACTICAL INFORMATION I Réserve animalière des Monts d'Azur
ADDRESS: 2651 Route des Châteaux, 06750 Andon
COSTS: From € 12.50 per person
MORE INFORMATION: Check the website for more information and opening hours
Via Ferrata
The word Via Ferrata literally means "iron road". With the help of pins, cables and stairs, a trail has been plotted along a gorge. It's very exciting! You can often complete the course independently. If you are afraid of heights, you shouldn't start here 😉
PRACTICAL INFORMATION I Via Ferrata de la Grande Fistoire
ADDRESS: Via ferrata de la Grande Fistoire – Maison de tourisme, 04250 Le Caire
LEVEL: D +, you have to be sporty this via ferrata is quite difficult
MORE INFORMATION: Check their website
Tête de la Sestriere
For the experienced hiker it is very nice to hike to the top of the Sestriere and discover the sources of the Verdon. You make a trip of about 11 kilometers and rise about 800 meters in height until you reach the top which is no less than 2568 meters! Here you get a beautiful 360 degree view of the mountains.
PRACTICAL INFORMATION I Hike to the tête de la Sestriere
ADDRESS: Maison de centre station, La Foux, 04260 Allos
WHERE TO PARK: At the tourist office Val d'Allos – La Foux, from where the walk startslt
MORE INFORMATION: Check out the directions on Visorando
Canoeing / rafting
The Alpes-de-Haute-Provence have so many great opportunities for canoeing or rafting! Sail through the beautiful gorges, over azure blue rivers and lakes. Definitely a must-do when on vacation here.
Tree climbing
If you have been to France before then you must have come across the "accrobranche" or "parc aventures". These are climbing parks where ropes, bridges and other obstacles are made between the trees. By securing yourself (secure with a special lock) you cannot fall and you can safely follow the course. There are different levels, making it fun for everyone to do.
Horse riding
France has so much beautiful nature to discover. Wouldn't it be nice to do that by horse? I myself have been horseback riding several times in France. This is always done with one or two guides who guided you. It is best to indicate in advance what your level is, so they can also estimate who they should pay more attention to. For example, last time we drove a few laps in the tank before going into nature, because there were people who had never been on a horse before.
Canyoning
Canyoning is a sport where you descend a river in a gorge. In France this is offered in many different places. A guide will accompany you and you will receive a special suit. Together you explore the river by jumping off waterfalls, walking and swimming! It is very cool and fun to have done. 
Skiing
The Alpes-de-Haute-Provence is wonderfully warm in summer and the Provencal sun welcomes you. In winter, however, it is possible to go skiing! The most beautiful ski area is Val d'Allos, with 181 km of slopes and a maximum height of 1800 meters.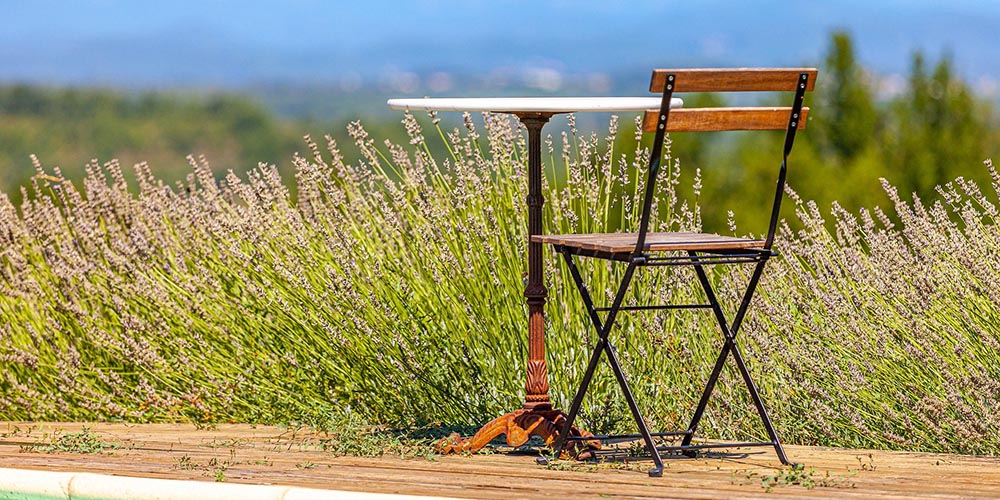 Lavender tour
You can book a lavender tour at the lavender fields of Valensole. This is possible for a group of 15 people and is completely free. Everything about the lavender is told and you will visit the distillery.
PRACTICAL INFORMATION I Lavender tour – Lavandes Angelvin
ADDRESS: Campagne Neuve, 04210 Valensole
COSTS: Free for a group of minimal of 15 persons
MORE INFORMATION: Check  their website
Abbey of Ganagobie
This abbey is very beautiful which is still in use. As a result, not all monasteries can be visited. Inside the church are beautiful medieval mosaics and stained glass windows. If you want to visit this, you have to come during visiting hours.
PRACTICAL INFORMATION I Abbey of Ganagobie
ADDRESS: Le Prieuré, 04310 Ganagobie
OPENING TIMES: Tuesday to Sunday between 2:30 PM and 5:15 PM
MORE INFORMATION: Check  their website
Beautiful holiday homes in the middle of the regional nature park 'Lubéron'. The owners are very kind and there is a nice and refreshing swimming pool.
This nice and cosy bed & breakfast has a mesmerising viex on the lake of Sainte-Croix! It is also only a 30 min. drive to the famous lavender fields of Valensole.
This page contains affiliate links