Hérault has a lot to offer! A wonderful variety of culture, active days out and of course the beach. With the beautiful weather and the many hours of sunshine, the bustling capital of Montpellier, the many vineyards, the famous beach la grande motte and the mountains and cooling rivers, your vacation can't go wrong in Hérault
Montpellier
Montpellier is the capital of Hérault and I personally think it is one of the best cities in France. Montpellier is a real student city. You can spot a lot of people cycling here, something you don't see much often in France! What is also really cool to do is a Segway tour. In 2 hours you will discover the beautiful city and its monuments.
In addition to the fact that the city is young and bustling, Montpellier also has many historic buildings. The historic city center has many narrow streets with shops and sights. Montpellier is a perfect destination for a city trip.
Agde / Cap d'Agde
Agde is an ancient Greek city with a rich history located at the Mediterranean Sea. The name comes from the Greek 'Agathos', which means 'beautiful' or 'good'. In the old center you can find many nice shops and restaurants. Agde is also a real seaside resort. With several nice places to visit nearby you can have a great time here.
Béziers
Béziers is a city with a picturesque appearance. Visit the old part of the city with the Saint-Nazaire cathedral, situated on a hill. This is truly a beautiful cathedral and a great example of the Gothic architecture. In addition, the city has two old arenas. The city itself has flourished from the income of tourism and wine production.
Sète
Sète is an important port for trade and also has one of the largest fishing ports of France. The harbor is very cute and cozy with the colorful houses, bridges, boats and restaurants. The town looks a bit like Venice because of its many canals and bridges. Near Sète are a number of beautiful beaches.
Pézenas
Pézenas used to be a fortified city that had an important role in the cloth trade. Later the city grew further into a real market town and the city also attracted artists and writers. Nowadays the city is still known as a city of art. The weekly market is very nice to visit. The historic character has been preserved, it's a lot of fun to walk through the cozy streets.
Minerve
This special fortress village from the 13th century is one of the most beautiful villages of France. You will notice that this village has a special character as soon as you arrive: You can only reach the village by an old medieval bridge. The village is situated on a rock with a beautiful view of the Gorges of the river Cesse.
Clermont-l'Hérault
The town of Clermont-l'Hérault is located near the Lake of Salagou. The city used to be closed by no less than 15 towers and 4 city gates. The wall is still partially standing. The city has various old buildings such as the ruins of a castle and an old church and a monastery.

Nature park Haute Languedoc
The beautiful landscapes, gorges, valleys and reliefs of granite boulders make this a beautiful area for walking and hiking. The mountain lakes also offer many opportunities such as water sports. Horse riding, canoeing and cycling. So many activities are possible in this beautiful nature park.
Cirque de Navacelles is a lager amphitheatre-like valley, formed by glacial erosion. When the ice has disappeared, the river formed a lake in the shape of a horseshoe. What now remains is only the valley, as the river and lake both dried up. The Cirque of Navacelles is one of the largest in the world. Along the valley you can make a beautiful walk of about 10 kilometers with beautiful views along the way. 
Gorges d'Héric
The gorges of Héric are beautiful and great for when it's  hot. You can relax in the refreshing water, but what really makes this gorge unique is the path that has been laid along the gorge. This path is made of concrete, making it easy to walk on. The path is approximately 5 kilometers long. You could even go by bike!
Grotte des Demoiselles
This cave is very large and impressive. It's perhaps one of the most beautiful in France. Huge halls with stalagmites and stalactites that you'll be able to see and walk around. The guide will tell you everything there is to know about the cave.
Lac du Salagou
A nice lake to take a dive and and practice water sports. There are sailing boats and pedal boats for rent. You can also walk and cycle along the lake as well as visit the area near the lake. If you'd like to spend a day at the lake I would recommend to take some chairs with you, as the small pebbles don't really provide any comfort.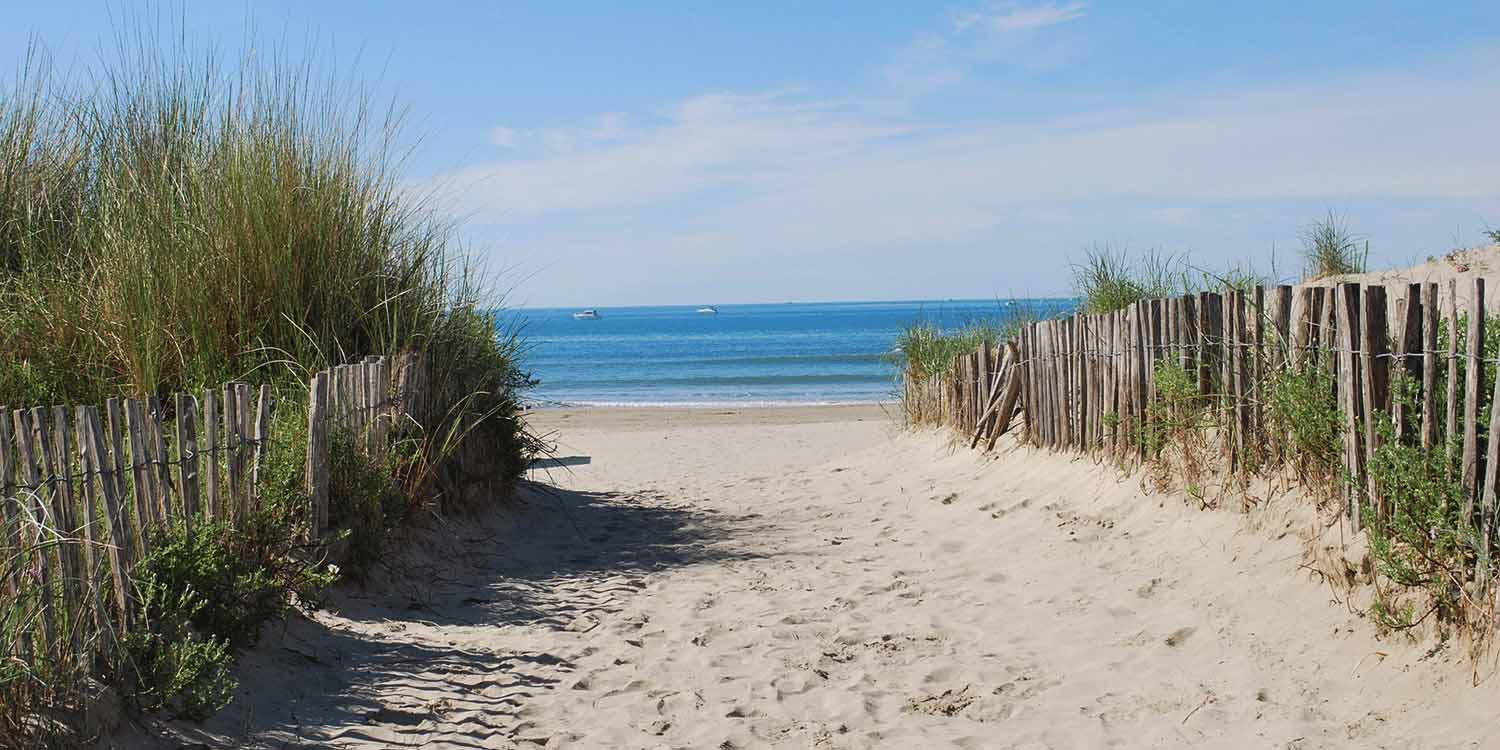 La Grande Motte
La Grande Motte is a huge seaside resort with a beautiful beach and exceptional architecture. Where in the famous seaside resorts such as Saint-Tropez, Cannes and Fréjus you will mainly find small beaches from small pebbles, La Grande Motte is an lang stretch of soft sand. 
Pic Saint-Loup
This mountain has a top of 658 meters high and it towers high above all hilltops. The mountain is special because it is super steep on one side and fairly flat on the other. As the mountains is therefore great for hikers, it's a popular attraction.
Tree climbing park
Go to an 'Accrobranche' park. You will find this a lot in France. It is a park in the forest where you can go from tree to tree by climbing, hanging and zip lining. There are different routes, from easy to difficult. I myself have been to such a park several times, it remains fun!
Canyoning
Canyoning is a sport during which you follow a river that runs through a gorge. You walk, climb, jump and swim during the route. There are also pieces where you'll have to abseil. Never go out canyoning alone because it's certainly not without its danger.
kayaking, canoeing and supping 
Hérault is perfect for kayaking, canoeing and supping. When the weather is warm outside we all prefer near the water! What is also very cool are the organised kayak trips under the guidance of a guide. You'll enter the open water and visit a number of caves.
Passa Pals voie verte
A beautiful cycling and walking route between Mazamet and Bédarieux. This is an old railway that leads you through beautiful landscapes along the river and through various cute villages. The path is flat and suitable for city bikes or mountain bikes. Along the route are various parking spots for your car.

Abbaye de Valmagne
A beautiful abbey open for visitors. The Abbey has a cloister and various pretty spaces. It also offers wine tastings and it has a shop where you can buy wine. During lunch time it opens a very good restaurant.
Wine and olive tour
During this wine and olive oil tour you'll have 3 hours to visit a wine estate and learn about the process of the wine and olive oil production. Visit a real family business and learn about olives, olive oil and other specialties. After this you'll walk among the tendrils and learn about the wine production. And of course you'll get to taste the products!