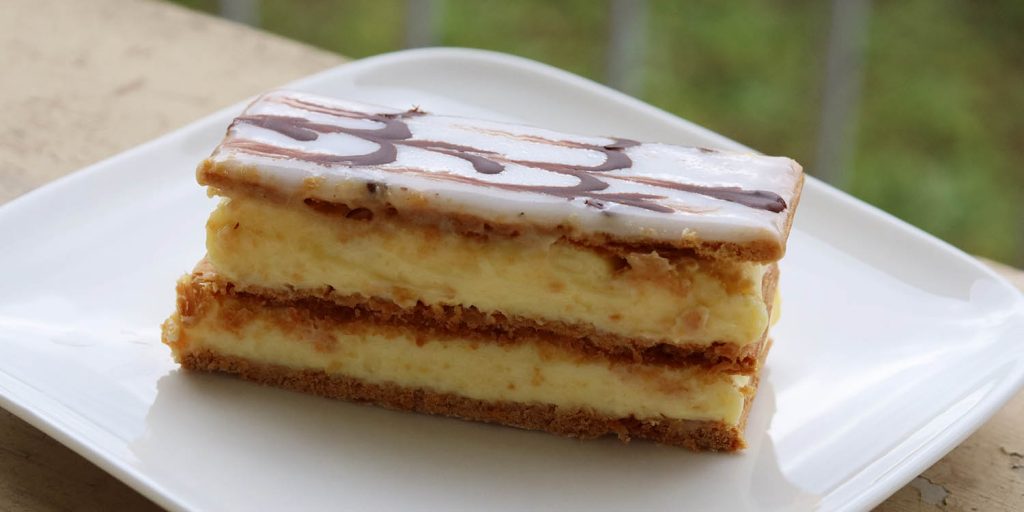 The Millefeuille (The right and official way it's: Mille-feuille) is one of my favorite pastries. The word Millefeuille means something like "a thousand layers" and of course refers to the layers of puff pastry.  
Millefeuille recipe (4 servings) 
For the layers of dough:
Puff pastry. Save yourself a lot of work and buy ready-made puff pastry. You can use a large piece, or small square pieces of puff pastry.

Powdered sugar
Preheat the oven to 180 degrees Celsius. Place the puff pastry on parchment paper on a baking sheet and cut it lengthwise into three long strips. The bars may touch each other, they will separate during baking. If you use square pieces of puff pastry, you will need 6 slices. You can already cut these in half.
Place a layer of parchment paper over the dough and cover with a heavy plate (for example, a second baking tray or a baking dish. This is to prevent the puff pastry from expanding too much. After 15 minutes you can see whether the dough has already turned to golden brown. Is it still a bit white, then you can let it bake for 5 minutes longer, if necessary, you can now remove the second baking tray or baking dish to make it turn brown a bit more even.
Remove the puff pastry from the oven and turn the oven to 210 degrees. Sprinkle the dough with a little powdered sugar so that a small layer is formed (not too much else you will get 'lumps' of sugar. This will cause the dough to caramelize a bit. Put it in the oven for a few minutes and keep an eye on it) It may turn brown, but shouldn't burn.
For the Diplomat Cream:
250 millilitres of milk

1 packet of vanilla-flavored sugar

50 grams of egg yolk (about 3 eggs)

60 grams of sugar

25 grams of cornstarch

25 grams of butter

4 grams of gelatin

100 millilitres of whipped cream
Put the gelatin in cold water and let it stand.
To make the cream, start with a cream patisserie. Mix the egg yolk with the granulated sugar with a mixer until the mixture changes it's color and becomes a bit light yellow. Then fold in the cornstarch.
Heat the milk with the vanilla sugar in a pan until it boils. Once it boils, add a part to the egg yolk mixture. Then put everything back in the pan and continue to mix well with a whisk. Cook for about 1 minute more until it thickens. Take it of the fire and add the butter and gelatin and stir well. Allow to cool.
Beat the whipped cream until stiff and add it to the cream patisserie. The diplomat cream is now ready. Put in the fridge.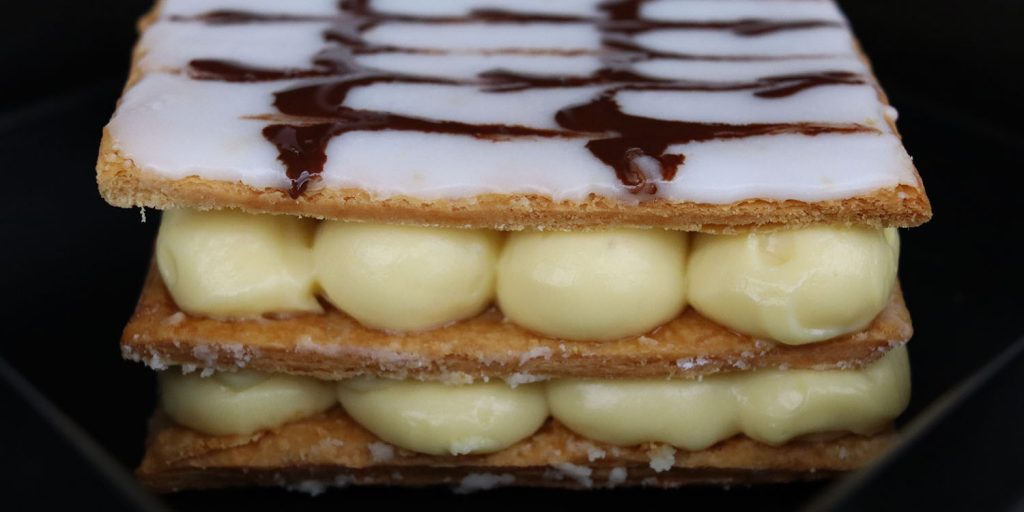 Finalize the Millefeuille:
The baked puff pastry

The diplomat cream

Powdered sugar

75 grams of dark chocolate

 
Put the diplomat cream in a piping bag. For this you can use a professional one, but you can also just take a sturdy plastic bag. Make a hole of about 1 cm in the bag and spray 4 length ways strips over the puff pastry strip so that it is completely covered. Now put the second strip over it and cover it with the cream as well.
Put some powdered sugar into a bowl and add a bit of water, make a mixture that is liquid but as thick as possible. It should just be able to drip off a spoon. Heat about 75 grams of dark chocolate in a bowl. Put this into a piping bag and cut a very small point of 1 mm. Brush the third and last puff pastry sheet with the sugar frosting. Now comes the hard part: Take the piping bag with the chocolate, and make 4 or 5 thin stripes of chocolate along the length of the glazed slice. Then grab a cocktail stick and make "dashes" down in the other direction. This creates a beautiful figure. Now place this slice on the pastry and put it in the freezer for about 15 minutes. After this you can cut it with a bread knife into smaller pieces. Done!
Do you accept the challenge and try out this millefeuille recipe?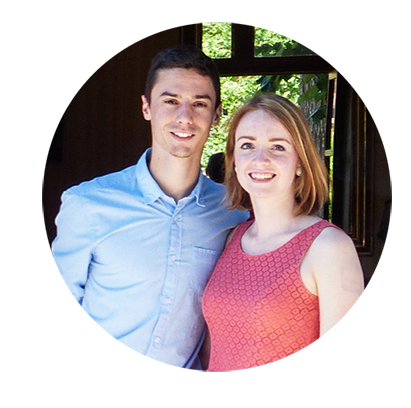 Hi! I am Lisette and writer  behind Traveltipsfrance.com
As a child I came to France every summer and in the beginning of 2018 decided to move to France. With my site I aim to inspire everyone that wants to travel or move to France.