Dordogne is one of my favorite departments in France. Everything comes together here: Culture, history and nature. The remains of prehistory and the periods thereafter are clearly noticeable. From inhabited caves to castles and beautiful characteristic villages; If you like history then you'll love to travel to Dordogne! The department is named after the river, where you can cool off and also a canoeing trip cannot be missed during your visit to this great area.
Périgueux
This is the capital of the Dordogne. The city is characterized as 'ville d'art et d'histoire', which means that there is a lot of art and history to be found and visited. Typical of the city are the ancient streets, Roman remains and the Cathedral of Saint Front. This gentleman was the "Boniface" of Dordogne: the person that spread the Christian faith. The cathedral looks a bit like the Sacré-Coeur in Paris, as it's the same architect that worked on the building. At certain times you can walk on the roof of the cathedral, which is certainly worth it. In addition, you will find beautiful old houses and buildings from the 15th and 16th century in Périgueux, including Maison des Consuls and Maison Lambert.
Bergerac
Bergerac is a pretty medieval place that has been really well preserved. There are beautiful old buildings and houses of craftsmen to visit. 
Sarlat-la-Canéda
Perhaps the most famous town of Dordogne is Sarlat. It's also one of the best preserved in France. This is perhaps because Sarlat was never an important city, so little has been invested and modernized. You will find the incredibly old buildings, picturesque streets and pretty squares. In the tourist office you can get information about, among other things, the city walks that have been set out. In July and August there is a famous theater festival which is very nice. Try to avoid mass tourism by going out very early in the morning!
Les Eyzies-de-Tayac-Sireuil
Les Eyzies is also known as the capital of prehistory. The area around this village was inhabited very early in history. Because of this there are many caves in the area that were used as homes. Les Eyzies has a very nice museum where you can learn everything about Neanderthals and prehistory. Really nice and interesting for children too!
Beynac et Cazenac
This village is a pearl of Dordogne. It is also one of the most beautiful in France. The village lies along the river and is built against the rocks with a beautiful castle at the top. From the castle you get a wonderful view of the rivers and green hills. The medieval houses are decorated with beautiful shutters and beautiful flowers. Worth a visit!
Domme
The village of Domme is built on top of a cave, which you can reach from the square in the middle of the village! This village is especially nice to visit when there is a market or flea market, as you can combine your visit to the cave with some whopping. Also don't forget to visit the old city gate, once used as a prison. And finally enjoy the beautiful view over the river Dordogne.
La Roque Gageac
If the listed cities and villages are not yet enough, then visit the lovely village of La Roque Gageac. Tip: you can sail along with by kayak, because the houses of this village are built along the riverside and this way you'll get the best view of the village!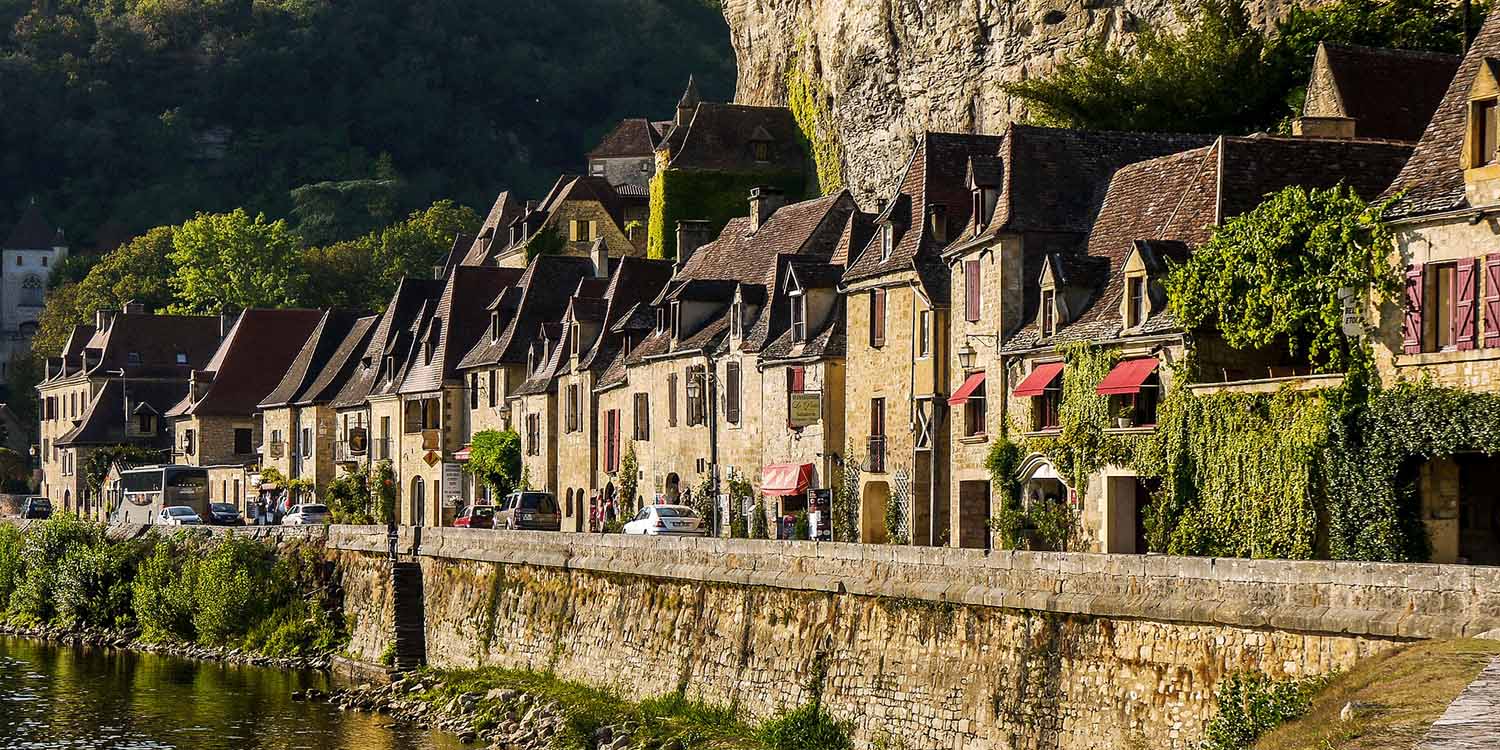 Cave Font-de-Gaume
This cave is close to Les Eyzies. It is one of the few caves with petroglyphs that is still open to the public. You get a tour of about 45 minutes to admire the many petroglyphs of bison, horses, mammoths and deer.
Cave Combarelles
The Combarelles cave is also open to the public and has many rock drawings. Unlike the drawings in the Font-de-Gaume cave, these are mainly engraved with sharp objects. Although this makes them less visible, the drawings aren't less detailed. In addition to animals, you can also admire pictures of people in the cave.
The gorge of Proumeyssac
The gorge of Proumeyssac is a cave of stalagmites and stalactites. There is a tour during which you can see a beautiful show with light and music. There is also a small museum where you can learn more about the cave. In addition, you can take a walk outside the cave and enjoy beautiful views. Finally, there is a nice playground and picnic area with snack bar.
La Roque Saint Christophe
The Roque Saint Christophe is a kilometer-long rock of former rock dwellings. The notch of the rock was created by erosion and the effects of frost. Among other things, a skeleton of a Neanderthal man and tools were found in the rock. You can visit the various spaces by yourself or by guided tour. Very nice and informative!
Cave of Villars
The cave of Villars is the only one where, in addition to the natural formations of stalagmites and stalactites, you also encounter human influences in the form of petroglyphs. These rock drawings were only discovered in 1958. A prehistoric garden has been laid out next to the cave where you can learn more about the life of former people.
Visit one of the many gardens 
In the Dordogne region you can visit many beautiful gardens. Sometimes these are castle or manor gardens, sometimes you'll just find beautiful gardens by itself. Take for example the Planbuisson bamboo garden. You can admire more than 250 types of bamboo and get information here if you would like to plant bamboo yourself in your garden.In this garden you'll feel small among all the tall bamboo! 
Périgord Limousin Regional Natural Park
This natural park is located in the north of Dordogne. You can enjoy hiking and cycling here, but also walking with donkeys, fishing, searching for geocaches (hidden 'treasures' which you can find with the help of clues) and even making hot-air balloon trips. The park offers all kinds of possibilities.

Plage de Nantheuil
This is a beautiful lake where you can swim and relax on the grass. In addition, various water sports can be practiced. There is also a nice beach. The quality of the water is regularly analyzed, so you'll be swimming safely.
Plan d'eau de Saint-Saud-Lacoussière
Another nice swimming and recreational lake is located in the north of the Dordogne. Here you can also enjoy swimming, walking and water sports such as a stand up paddle. There is a snack bar / restaurant so you can easily spend a whole day here.
Parc Aventure
Go to an "Accrobranche" park. You will find these a lot in France. It is a park in the forest where you can go from tree to tree by climbing, hanging and ziplining. There are different routes, from easy to difficult. I myself have been to such a park several times, it remains fun!
Kayaking
Sail past the most beautiful villages and castles. There are canoes for rent at various places along the river.
Horse riding
In this region you will find many riding schools that offer courses. From beginners to advanced, the riding schools are aimed at tourists during summer. Very nice to discover nature in a different way.

Caves of the rock of Cazelle
The caves of the rock of Cazelle is actually a prehistoric park / museum where you learn about the lives of our distant ancestors. The caves are arranged in chronological order and the former people and animals have been recreated to make it all lifelike. There are all kinds of workshops to do and everything is well arranged for children. 
Visit castles
The Dordogne has so many beautiful castles! You can go out for days if you want to visit them all. They are all beautiful. I'm a real castle lover and I think it is a pity that there are so few in the vicinity of my place of residence (Drôme department). Visiting a castle gives me the feeling of going back in time. 
Maison Forte Reignac
This house is built in a very special way in a big rock. The rooms are beautifully decorated to give you the best image of how life used to be in the past. In some rooms there is even real food and the fireplace lit! It's fun to discover the different rooms with children.