Lot-et-Garonne is a quiet department with beautiful old bastide villages and a lot of culture. You will find beautiful castles and old churches. In the river you can enjoy canoeing when you are looking for a cool spot. This department also has many marchés gourmands: markets where delicious fresh food is prepared and where you can enjoy it together with other tourists and the locals. There is a very cozy and authentic atmosphere in the Lot-et-Garonne, partly because it is not so touristy.
Agen
Agen is the capital of the Lot-et-Garonne. The city was founded a long time ago, partly because of its practical location between Bordeaux and Toulouse. There is a beautiful and cozy Medieval city center with nice terraces and shops. There is also a very beautiful old bridge over the Gironde canal. This bridge is also one of the longest in France!
Monflanquin
This bastide village is on the list of the most beautiful villages in France. The village was founded in the 13th century. It has endured many attacks from the English, but it has also been largely rebuilt. A bastide village is known for its central city square surrounded by traders and crafts.
Villeréal
The village of Villeréal, like Monflanquin, is a bastide village. These were built in this area in the 13th century. Here you will also find a beautiful town square with old houses and buildings around it. Nice to walk through and relax on one of the terraces of a drink!
Najac
Najac is a beautiful photogenic village on top of a hill. The village is mainly known for its castle from the 12th century. All the houses of the village are built along the road leading to the castle. In the past, the castle was used as a refuge during the time of the Cathars and the Hundred Years' War. At the bottom of the village is the river, which is suitable for canoeing. 
Penne-d'Agenais
Another nice medieval village is Penne-d'Agenais. In this village you can stroll through the picturesque streets. The most famous is the basilica at the top where you also get a beautiful view of the area.
Pujols
The beautiful village of Pujols has something warm and lovely. It is different from other villages in France, but difficult to explain exactly what that is. You can only feel it by experiencing it for yourself!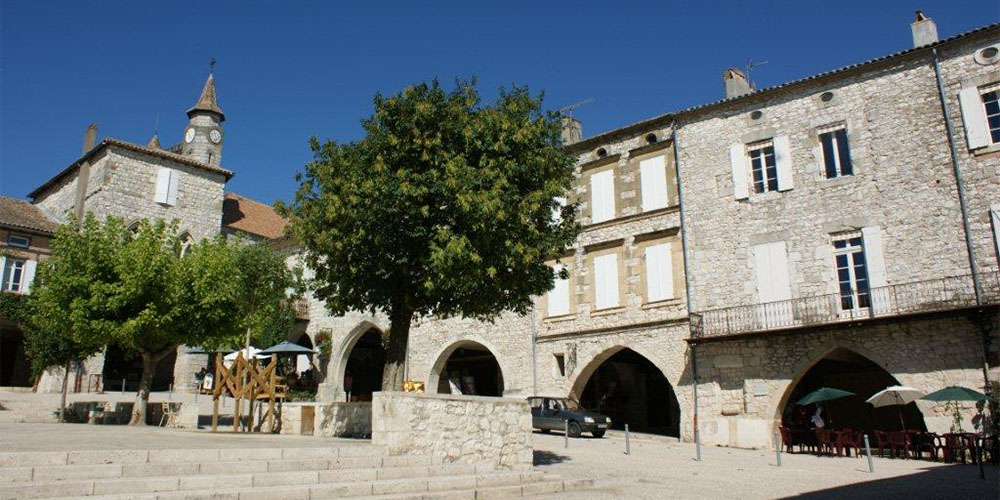 Grotte de Lastournelle
This stalactite cave was discovered in 1878 by farmers who wanted to dig a well. It is a somewhat smaller cave and especially fun and exciting to visit with children. An ideal trip on a somewhat rainy day. The tour lasts half an hour.
PRACTICAL INFORMATION I Grotte de Lastournelle
ADDRESS: 1851 Route des Grottes de Lastournelles, 47300 Sainte-Colombe-de-Villeneuve
OPENING TIMES: July and August from 10:00 AM – 6:00 PM (last visit 5:30 PM) (times in low season deviate, please check the website for this)
COSTS: € 7.50 for adults. Children under 14 years € 5
MORE INFORMATION:  Take a look at their website 
Les Jardins de Coursiana
If you like beautiful gardens and relaxing, then you should definitely visit the Jardins of Coursiana. There are more than 700 different types of trees and plants and there is also a beautiful vegetable garden with all kinds of fruit and vegetables. There is a lot of shade where you can enjoy your rest. There is also a café where you can order a nice ice cream or drink.
Hiking
Lot-et-Garonne is ideal for walking and hiking. Whether this is a city or village walk or a hike between the vineyards. Many nice walking routes have been set out by the tourism offices. You can view and download these routes on this website. The text is in French but there is a map that can help you discover the route.
Cycling
There are two beautiful cycling routes through this department. The first is the Canal des deux mers, a 750 km long cycling route that stretches from the Atlantic coast all the way to the Mediterranean! In the Lot-et-Garonne you cycle along the Garonne canal, mainly on an old towpath. Another beautiful cycling route is the one along the River Lot. View here where the cycling routes are located.
Canoeing
As in most departments with beautiful rivers, you can also enjoy canoeing in Lot-et-Garonne. Discovering the river by canoe is one of the best ways to get to the best beaches. Especially when the weather is nice, a canoe trip cannot discover your holiday!
PRACTICAL INFORMATION I Canoeing
ADDRESS:
Nautilius BKS: Place de la Cale, 47260 Castelmoron-sur-Lot
ProD' Sports et Loisirs: Place de la Cale, 47180 Couthures-sur-Garonne
OPENING TIMES: Every day in July and August, other months by reservation or only on weekends. Reservation recommended
COSTS: About € 10-20 per person, depending on the duration of the canoe trip
MORE INFORMATION:
View the Nautilius BKS website
View the ProD 'Sports et Loisirs website
AquaFun' Park Clarens
This aquafun park is located in the swimming lake Lac de Clarens. There is a nice beach at the lake. You can just relax on the beach or go crazy for an hour on the equipment in the water!
PRACTICAL INFORMATION I AquaFun' Park Clarens
ADDRESS: Route de Mont de Marsan, Lac de Clarens, 47700 Casteljaloux
OPENING TIMES: From June 29 to September 1 from 11am to 8:30 pm
COSTS: Swimming only: € 2.50 for adults. Children under 12 free. The Aquafun Park: € 8.90 for an hour, € 18.90 for the whole day.
MORE INFORMATION: Take a look at the website for more information
Marchés gourmand
The marché gourmand is a night market which is organized in the summer period. You can find them in many villages in the Lot-et-Garonne. They are called marchés gourmand because during the market it is mainly about good food. Gourmand means something like "foodie". Tables are set up everywhere and you can enjoy what the region has to offer. Very cosy!
Horse riding
If you like horse riding then it is very nice to go on a horse ride. Many riding schools offer a tourist tour in the summer. This usually takes about 1 to 2 hours, but you can sometimes also make longer trips. Depending on your own experience, what is possible is coordinated. View an overview of all providers here.
Tree climbing park
If you have ever been on holiday in France, you have probably come across a tree climbing park. In France, these parks are also called "accrobranche" or "parc aventure". The idea is that you follow a trail high in the trees through ropes and constructions with wood. There are different levels, from easy to difficult. And believe me, the most difficult level is really a dire challenge and sometimes even only for strong guys. Depending on the age, children can also participate in a number of courses and even for the youngest children there is usually a small course. A great challenge from young to old!
Château de Bonaguil
This castle got its name from the pointed rock on which it is built. Bonaguil comes from bonne aguille, which means "good needle". The castle is a ruin, which can be visited inside and out. You can get a booklet in Dutch and there are also signs in different places with more information.
PRACTICAL INFORMATION I Château de Bonaguil
ADDRESS: 47500 Saint-Front-sur-Lémance
COSTS: € 9.50 per person. € 5.00 for children aged 6-12
MORE INFORMATION: Check  their website
Château de Duras
This renovated castle has many different rooms which can be visited. The rooms are partly furnished. The castle gives a beautiful view of the area. You can take an audio tour to learn more about the castle.
PRACTICAL INFORMATION I Château de Duras
ADDRESS: Place du Château, 47120 Duras
COSTS: € 9.00 for adults. € 6.00 for children aged 13-18. € 4.50 for children aged 5-12
MORE INFORMATION: Check their website
Château de Gavaudun
This fort is impressively high on top of a rock. It is a special castle with a huge tower. Prepare for a challenging climb up. Once at the top you have a beautiful view. You should not be afraid of heights because you really look very deep down. You can also abseil from the tower!
PRACTICAL INFORMATION I Château de Gavaudun
ADDRESS: Le Bourg, 47150 Gavaudun
COSTS: € 5.50 for adults. € 3.50 for children aged 6-16 and students
MORE INFORMATION: Check their website
Go on a church tour
Lot-et-Garonne has many beautiful churches. If you like this then the following churches cannot be missed.
PRACTICAL INFORMATION I Churches in Lot-et-Garonne
NOTRE-DAME DE PEYRAGUDE: Beautiful basilica on top of a mountain. Address: 10 Rue de Peyragude, 47140 Penne-d'Agenais
CATHEDRALE SAINT CAPRAIS: Very beautiful cathedral with a beautiful painted ceiling. Address: Place du Maréchal Foch, 47000 Agen
EGLISE SAINTE-CATHERINE: Special and beautiful church built from red brick. Address: 21-25 Rue des Girondins, 47300 Villeneuve-sur-Lot
EGLISE NOTRE-DAME DE MOIRAX: Very old church whose construction started in the year 1060. Address: 10 Grand Rue, 47310 Moirax
EGLISE NOTRE-DAME DE MARMANDE: Beautiful church with old cloister. Address: Allée de l'Eglise, 47200 Marmande
Museum of Foie Gras
In this museum you can learn about the process of making foie gras (fatty foie gras). You will see that there is indeed a difference in animal friendliness between the local farmers and the factory foie gras. It is an interesting museum and afterwards you can (adjust) your own opinion!
PRACTICAL INFORMATION I Musée de Foie Gras
ADDRESS: Souleilles, 47140 Frespech
OPENING TIMES: Every day between 3:00 PM and 7:00 PM. In the summer from 10:00 to 19:00. Closed on Sundays in January.
COSTS: € 5.00 per person with free tasting
MORE INFORMATION: Check  their website
Charming B&B with beautiful rooms and a refreshing pool.  The staff is very friendly and welcoming. It's only a 20 min. drive to the river Lot where you can do some canoeing
A beautiful guesthouse in a quiet and beautiful area. There are several rental possibilities which are very clean and the owners will do all they can to make your stay as pleasant ad possible
This page contains affiliate links