Tarn-et-Garonne is a department to visit if you love culture and history. There are beautiful medieval villages to visit and the city of Montauban, one of the oldest cities in France, is not to be missed. For children this is also a nice vacation spot, because of the many activities that can be done such as the toy museum, the via ferrata, horse riding and canoeing. Find out more about what to do in the Tarn-et-Garonne here!
Montauban
Montauban is one of the oldest cities in France and you will see that when you visit it. The most beautiful sight in my opinion is the photogenic city square, the Place Nationale. Here you will be surrounded by beautiful pink buildings, which also resemble the city of Toulouse. You can also admire an impressive old bridge and a beautiful cathedral called Notre Dame de l'Assomption. In the city itself you can find nice shops and good food and drinks on one of the many terraces.
Bruniquel
An impressive and picturesque village perched on top of a rock. Walk through the old medieval streets and you will imagine yourself back in time. The literal highlight is the castle, the construction of which started in the 6th century.
Auvillar
Auvillar is also a beautiful and photogenic medieval village. The nice and unique thing is that many buildings are not made with the well-known boulders, but with bricks. This makes it a beautiful and characteristic whole.
Saint-Antonin-Noble-Val
This medieval village is located on the river Aveyron and on the pilgrimage route of Santiago de Compostella. The village overlooks the high rocks that run along the river. A beautiful bridge connects the village with this gorge. It is nice to walk through the small streets and there are old buildings, including a church and an old market hall. There are also nice shops and nice terraces.
Lauzerte
Lauzerte is also such a nice medieval village, which, like Saint-Antonin Noble Val, is on the route of Stantiago de Compostella. It has a beautiful village square with terraces and shops. Nice to visit during, for example, a vide grenier, but not necessarily a village to drive especially for if it is not nearby.
Cascade pétrifiante de Caylus
If you are lucky and enough rain has fallen, you can admire this waterfall. The waterfall is right next to the road. Cascade petrifiant means: "Petrifying waterfall". This is because there is so much carbonate in the water that every leaf or twig that falls in the water is almost immediately calcified.
Le Refuge aux Etoiles literally means "the shelter / refuge to the stars". It is a gite where you can stay whose owners offer excursions and teach you about the universe, the stars and planets. You can learn everything about using a telescope and of course you will see a lot of beautiful things! The owners speak several languages, including English. View the current prices and availability here.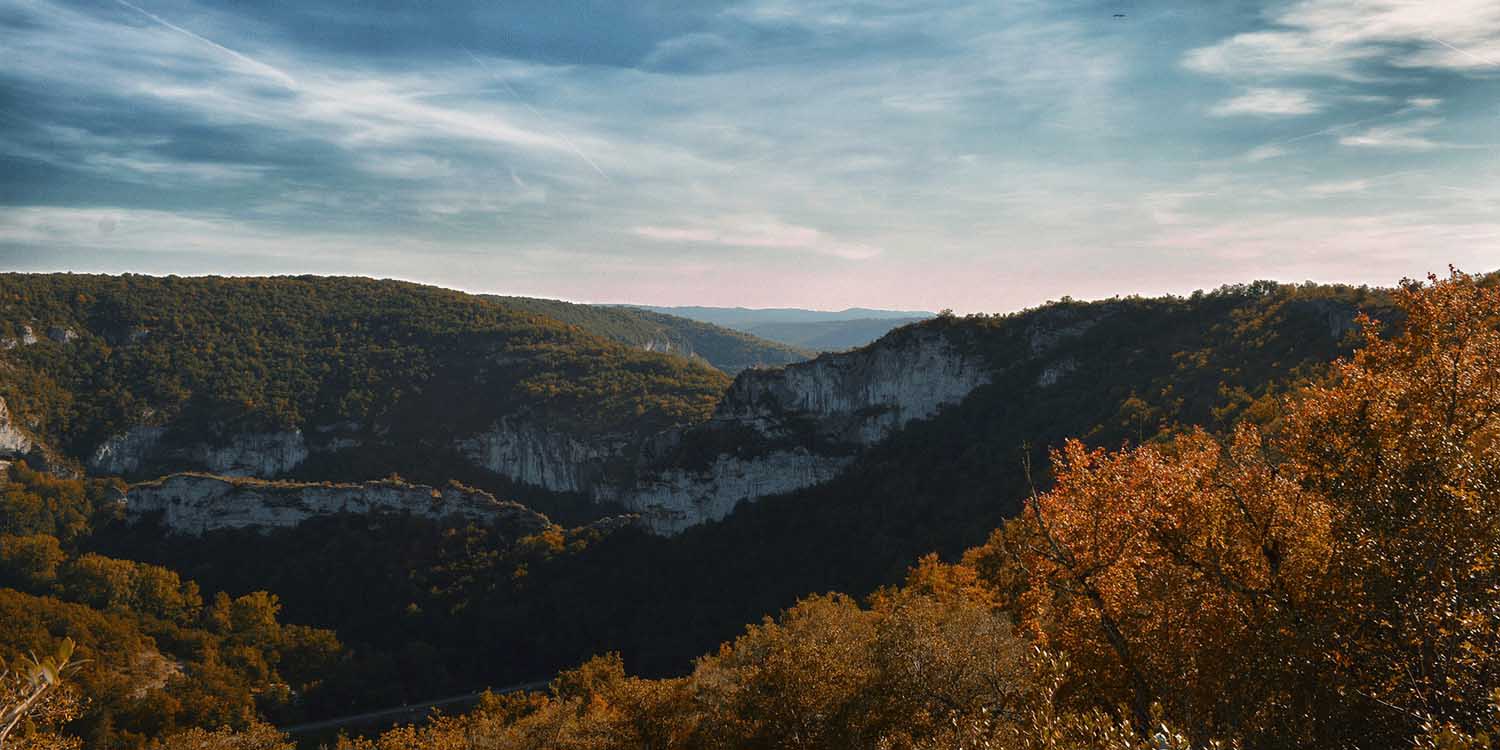 Via Ferrata
Ever heard of a Via Ferrata? Via Ferrata is Italian and means "Iron Road" in Dutch. You take a route that is secured by a steel cable. Here you secure yourself so that if you fall, you will stick. Tools such as iron stairs, pegs or brackets are attached to the rocks. Climb, clamber over the ridges and mountain sides. The Via Ferrata is definitely not for the faint of heart!
Canoeing through the Aveyron gorge
The canoe trips in the Gorges d'Aveyron are very beautiful with views on the high rocks and cliffs. You can rent canoes in different places and the descent is varied with different beaches, rapids and especially a beautiful environment.
Base de Loisirs de Monclar de Quercy
This is a park with three different (swimming) lakes and no less than four swimming pools. One of the lakes is suitable for swimming and there is a fine sandy beach to enjoy the sun. The second, large lake is only accessible to athletes, for example for stand-up paddle. The third lake is especially for fishermen. In the swimming lake there is a large water game with various obstacles. There are also several other activities to undertake. Something for everyone!
Tree climbing park
If you have ever been on holiday in France, you have probably come across a tree climbing park. In France, these parks are also called "accrobranche" or "parc aventure". The idea is that you follow a trail high in the trees through ropes and constructions with wood. There are different levels, from easy to difficult. And believe me, the most difficult level is really a dire challenge and sometimes even only for strong guys. Depending on age, children can also participate in a number of courses and even for the youngest children there is usually a small course. A great challenge from young to old!
Horse riding
Horse riding is always fun to do, especially because you discover a completely different piece of nature, where you would otherwise not come so quickly. If you do not have that much experience, that is not a problem, the (usually) ponies are used to tourists and walk quietly behind each other. One or sometimes two guides always accompany you to make sure everything is going well. Usually there is just walking at a walking pace and sometimes also a bit in the trot. First book an hour or a maximum of two hours and if you really like it, you can always come back again.
The Abbey of Moissac
One of the most beautiful abbeys in France is that of Moissac. It is a great building with beautiful arches and sculptures. It is a historical monument which is also part of the UNESCO World Heritage List. The Abbey can be visited with a guide or alone.
Ferme lavande de Lacontal
Did you know that lavender doesn't only grow in Provence? Here, in the middle of the Tarn-et-Garonne, you will find a farm with beautiful lavender fields. The lavender blooms from mid-June. This farm in the village of Touffailles also sells lavender products made from their own crops, including soap and lavender oil.
Musée des jouets
If you are looking for things to do in the Tarn-et-Garonne then you should definitely not skip this museum. Here you will find toys of all times. From miniature trains to dolls to fun thinking games. Everything is beautifully displayed and especially for the elderly among us real nostalgia. Children will also love this, because there is a lot to see that (for a long time) is no longer for sale. The owners are ready to explain where necessary. There is also a play corner where children can play on their own.
Château de Bruniquel
Above the town of Bruniquel, on the top of a cliff with beautiful views, there are two castles. These have been completely restored and definitely recommended to visit. Visit the old rooms and imagine the past life of this castle. Only the road to the castle, through the old medieval streets of Bruniquel is already worth it!
A beautiful guesthouse in a quiet and beautiful area. There are several rental possibilities which are very clean and the owners will do all they can to make your stay as pleasant ad possible
Wonderfull and authentic bed & breakfast in an old renovated house. The guesthouse is situated in the village of Auvillar.  
This page contains affiliate links