Chateau de Crussol is a castle ruin from the 12th century.

When you visit the city of Valence you'll be able to see the castle at the top of the hill of the Ardeche mountains.  
About the castle
The castle was initially made of wood, but was destroyed by a fire.
The castle was then rebuilt with stone.
At one point the castle was set on fire during wars and in 1855 the castle was largely collapsed due to the explosion of a mine.
Later, due to a lightning strike, the castle became the ruin as it can be visited now.
The castle has been named a historic monument in 1927.
How to get to Chateau de Crussol from Valence:
Via the D533 you head towards Saint Péray. At a certain point, turn left into the Chemin de Beauregard. Follow this road until you reach the statue of Jesus, where you will find the parking space.

Small walkingroute (about 40 minutes,  2km)
From the parking lot you walk up to the left until you reach the chateau. Along the way you will come across a theater on the left. You walk past it and you can already see the castle in front of you. Here you can enjoy the view and the many small paths within the castle. To continue your way, walk further up on the right of the castle. Turn right and take the way down. Keep going right and you will come back to the parking lot.
The path is not to hard, although it's a bit steep sometimes.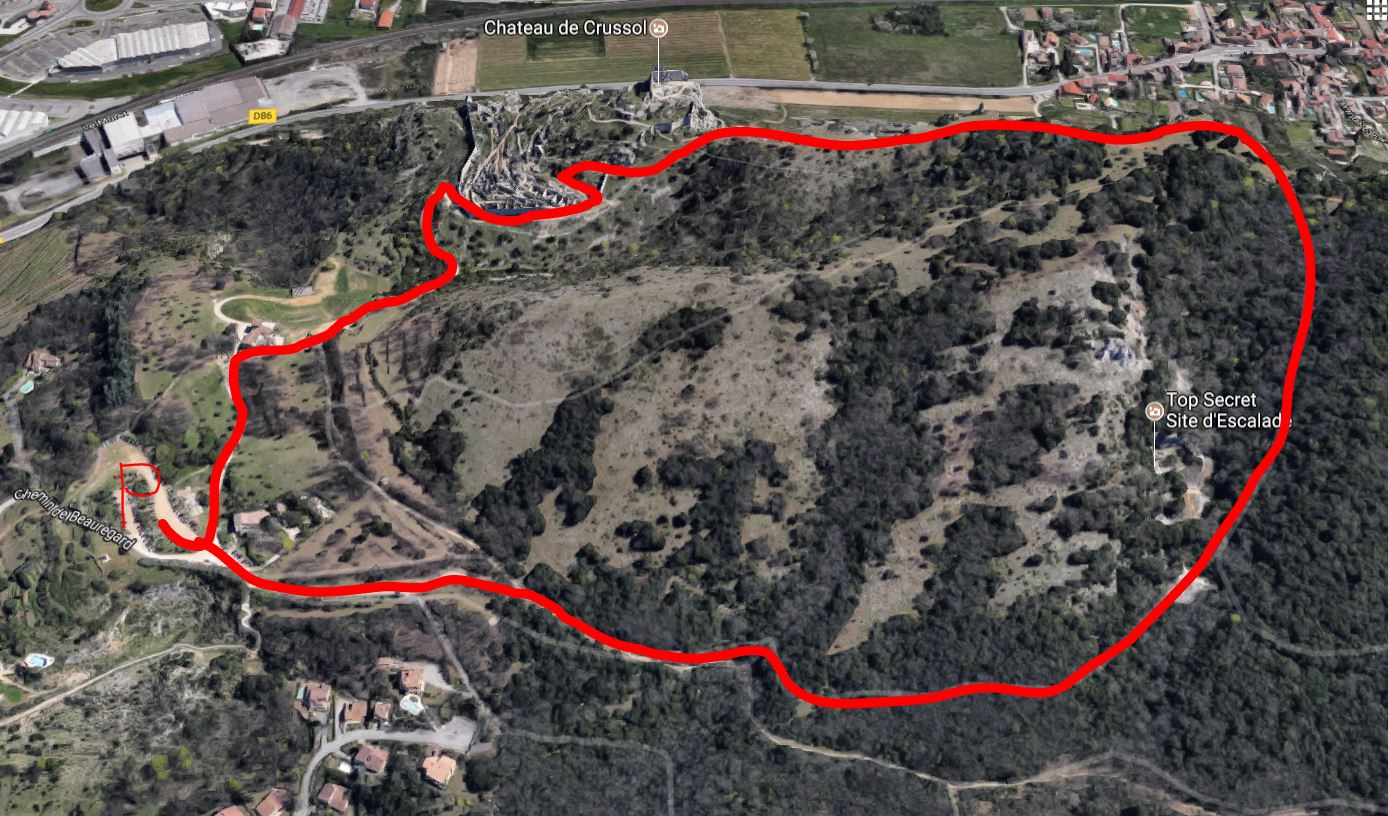 Bigger walkingroute (about 1 hour and 10 minutes, 4 km)
Do you prefer to walk a bit more and less steep, then take the path as shown here below: 
Events and activities at Chateau de Crussol
During the year there are several activities and events organised at the chateau: Concerts, medieval festivals, theater, fireworks etcetera. You can ask more about these events at the tourists office at Valence. 
Dining at Crussol
Directly at the parking of Crussol is the Auberge de Crussol. Here you can have a drink, icecream and dinner. There is a terrace with a beautiful view. Ideal for those long and warm summer nights!