The Aveyron isn't a well-known department of France, which is not really fair as it has a lot to offer! You will find a lot of authentic medieval villages and castles. But also the nature in the Aveyron is beautiful with the Tarn river gorge. This means there is plenty to do and experience. And did you know that the famous Roquefort cheese also comes from this region? Check out my tips for a holiday in the Aveyron below!
Sauveterre
Sauveterre is a nice bastide town from the 13th century. Several traders and craftsmen came to settle in the city. From there trade was conducted to several French cities. The village is well preserved and even now the village is still very lively. Especially the square surrounded by the beautiful arcade arches and various shops is fun to visit.
Villefranche
Once a small bastide village, now Villefranche is a considerable place with about 12,000 inhabitants. The village has nice streets with old houses and there is a pleasant square with the well-known arcade arches. In the square is also a large church, with a huge tower. Every Thursday morning there is a market of local products.
Rodez
Rodez is the capital of Aveyron. The city has a history of wars and diseases like the plague. Nevertheless, it'still an important city and many beautiful buildings remain. For example, there is an impressive Gothic cathedral, built of red brick. A nice walking route has been laid out in the city center with which you can learn more about history. More information can be obtained from the tourist office.
Najac
Najac is a beautiful photogenic village on top of a hill. The village is mainly known for its castle from the 12th century. All the houses of the village are built along the road leading to the castle. In the past, the castle was used as a refuge during the time of the Cathars and the Hundred Years' War. At the bottom of the village is the river, which is suitable for canoeing. 
Brousse-le-Chateau
The town of Brousse-le-Chateau is, just like Najac, a beautiful, picturesque village, built on a hill. At the top is an interesting castle from where you'll get a beautiful view over the medieval village and the river Tarn. The village is also on the list of the most beautiful in France.
Conques
The town of Conques is an important stop on the pilgrimage route to Santiago de Compostela, and for good reason! It is one of the most beautiful villages in France. It is a beautiful medieval village, where everything is beautiful. The village is also known for its beautiful abbey church. If you are on holiday in the area, a visit to this village cannot be missed!
La Couvertoirade
La Couvertoirade is a medieval village that is completely surrounded by a city wall. Even old watchtowers have remained. Cars are prohibited in the village and it is very pleasant with small shops and restaurants. The village is also still inhabited, making it not only a tourist attraction.
Les Grands Causses Regional Natural Park
Les Grands Causses literally means the large plateaus. It is a nature reserve of high limestone rocks and deep valleys. At certain points high, pointed rocks rise into the air. In this area you can also find a special rock formation that's called "Chaos de Montpellier-le-Vieux", which are high rocks of no less than 12 meters high . There is also an arch that was created naturally.
Rougier van Camarès
The rougier of Camarès is a special natural phenomenon. It's a large hilly landscape of bright red sand. It got it's color as the soil is so iron-rich and has started to oxidize, just like it happens with rust. Many statue menhirs have also been found in this area.
Cave of Foissac
This 7-kilometer long stalactite cave has been discovered since prehistoric times, but has only been "rediscovered" since 1965. Several human bones and pots were found in the back of the cave. Because of this, it can be assumed that the cave was probably used as a tomb. The nice thing about visiting this cave is that the skeletons are still exactly where they were found.
The Tarn Gorges
The River Tarn cuts through the Aveyron department. It is a wide, quiet river that runs through the mountains and it's great for a day of canoeing and swimming.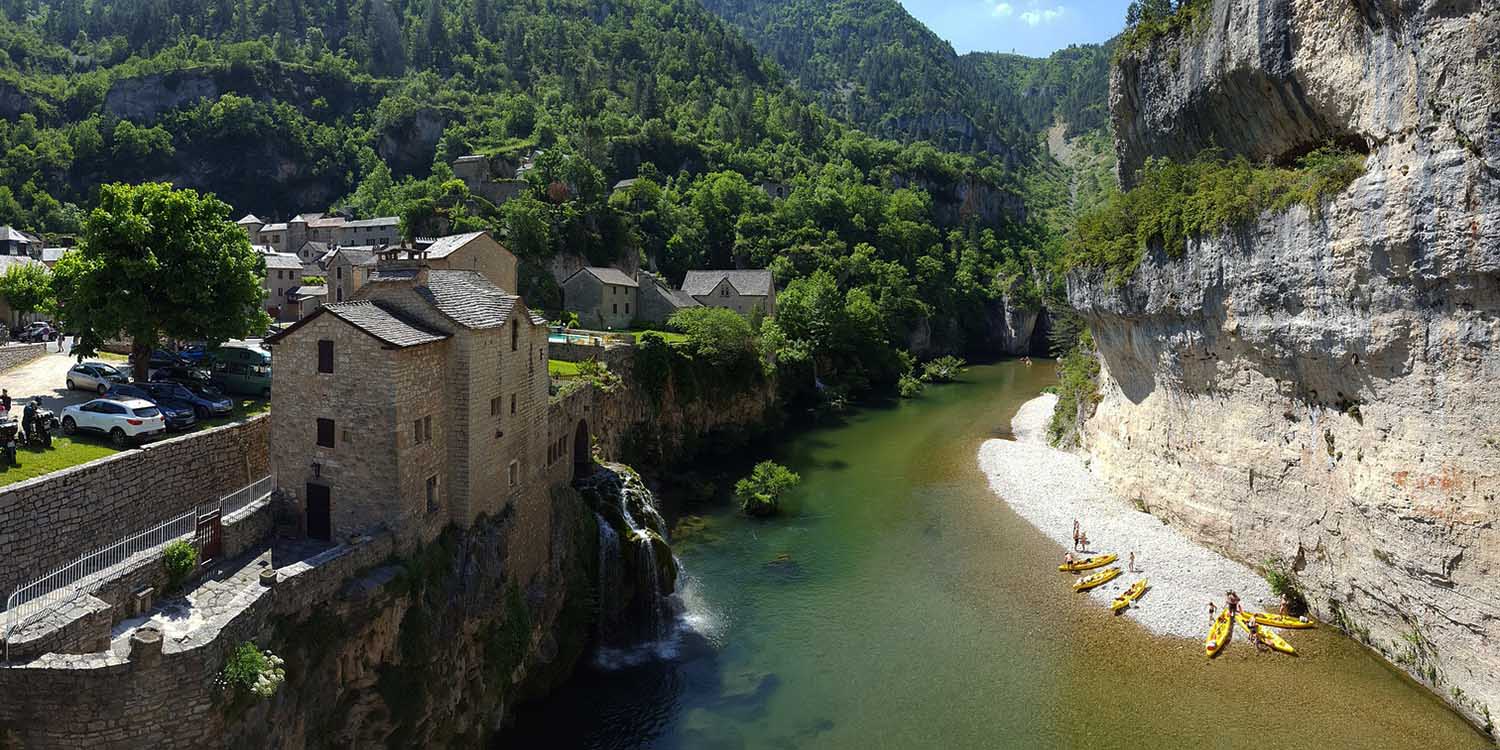 Micropolis museum of insects
In this museum you will learn everything about insects. There are many stuffed insects to be seen, but they also have a butterfly garden, an ant population, and some beehives. A lot of information is also in English and the staff can provide English explanations. The museum is great fun for kids with many interactive activities. This may seem ideal during a rainy day, but it can also be very busy!
Expedition by horse or Dromedary
Horse riding is a fun way to get active and see some of the area. There are several riding schools that offer this for tourists. Or take a trip on a dromedary! You can choose a short trip of 20 minutes, an hour or half a day.
Canoeing
If you'd like to enjoy a day of canoeing, that is certainly an option in the Aveyron. The river Tarn is a wide, quiet river and very suitable for canoeing and relaxing on one of the beaches.
Via Ferrata
In St-Beauzély is a Via Ferrata. A Via Ferrata is an "iron road" laid out in the the gorge of a river. With the help of iron pins, cables and bridges you can walk and climb along and over high rocks. You'll have to be sporty for this! This Via Ferrata runs through the gorge of the river Tarn and has two courses, both of which take about 4 hours.
Quad driving
Always wanted to ride a quad by yourself? Together with a guide you'll go on a discovery trip. First, you'll get explaining how to operate the quad. There are several course options ranging from an hour to one full day. 
Canyoning
Canyoning is a sport which consist of following a river that runs through a gorge. By walking, climbing, jumping and swimming you'll make you're way through the gorges. There'll also be some possibilities to do abseiling. Never go out alone as canyoning is certainly not without its dangers. There are several tour operators that are offering Canyoning for both kids and adults. 
La Cité de Pierres
La Cité de Pierres is located in the middle of the Les Grands Causses Natural Park. Here they have built hiking trails in the middle of the rugged nature which are very well maintained. This allows you to safely walk in the area and explore the beautiful nature. For this reason you will of course also have to pay something to enter the park, but this is definitely worth it! If you are less mobile, there is also a train in which you can explore the area in an hour.
Château du Bosc
This castle was once a fortress, used to protect the area. Until it fell into the hands of a painter's family, named Henri Toulouse-Lautrec. His grandmother decided to modernize and furnish the castle. To this day, the castle and its beautiful rooms are open to the public. The nice thing is that the tours are often provided by a painter's grandniece, bringing history to life even more.
PRACTICAL INFORMATION I Château du Bosc
ADDRESS: Le Bosc, 12800 Camjac
COSTS: Guided tour: € 8 for adults and € 5 for children
MORE INFORMATION: Check  their website
Château de Belcastel
The medieval village of Belcastel and its castle are no less than 1000 years old. The castle has always had different owners, until it fell into disrepair. Fortunately, it has been "saved" and completely restored. The castle is open to the public and if you want to go back in time and feel what it is like to live in a castle, that is also possible: One of the towers is turned into a bed and breakfast. And there is even a swimming pool which is located in the old castle moat!
PRACTICAL INFORMATION I Château de Belcastel
ADDRESS:
Château de Belcastel, 12390 Belcastel
OPENING TIMES:
Open from April 3 to November 8 from 10am to 6pm (may be closed between 1pm and 2pm in the afternoon)
COSTS:
€ 8 for adults and € 5 for children
STAY IN THE TOWER:
Check 
availability and prices here
The Millau Viaduct
The Millau Viaduct is the highest bridge in the world and crosses the Tarn River. With a height of 342 meters, it is the same height as the Eiffel Tower! The view from the viaduct is therefore impressive. The viaduct was built as there were too many traffic jams. Taking the viaduct can save a lot of travel time.
Abbey church of Sainte Foy
Built in the 11th century, this huge church became a popular stop for pilgrims on the route to Santiago de Compostela.
Roquefort cheese
The famous Roquefort cheese comes from Aveyron, from the village of Roquefort-sur-Soulzon. Here you can visit the cave where thousands of cheeses are maturing. Everything is explained (unfortunately in French, a translation in English is given on paper).
You'll find this beautiful holiday home in the medieval village of Lunac. It's perfect for spending your holidays if you love to get away from all the business of life, and just enjoy the pure, French life.
It looks like it come right of a fairy tale book. This cute house helps you go back in time! It's situated at the border of a big national park, and nearby the river Lot. 
This page contains affiliate links