Aude is a department with an incredibly rich history. The Romans created important trade routes in the region. There are also many remains from the time of the Cathars, including a number of castle ruins and of course the famous city of Carcassonne. In addition to these historical features, Aude also has many other attractive points. Situated at the Mediterranean sea, you'll be able to spend a wonderful summer vacation. The Aude is an all-round holiday destination.
The most famous city of Aude is the city of Carcassonne. This city is the most beautiful preserved medieval city in Europe. Walk over and along the city wall and you'll get the feeling of going back in time. In the summer period many medieval festivals are organized, which is also great to experience.
Narbonne
Narbonne is also a great city to visit. It has an ideal location: directly at sea. Narbonne has many ancient remains, including the beautiful St-Just cathedral. Climb the nearby tower for a superb view of the city. In the old city center are some cute shops and nice terraces.
Lagrasse
Lagrasse is one of the most beautiful villages in France. It is an old village and it has certainly retained its character. Beautiful sights are the abbey, old market hall and the old bridge that flows over the river.
Bages
Bages is a village nearby Narbonne and situated on a salt lagoon. The nice thing about this village is the lagoon, where you can regularly spot flamingos!
Limoux
The city of Limoux is a nice and pleasant town to visit. There are several remains from the past, including an old bridge and a basilica. A large carnival festival is organized in the months of January to March.

This lake is an artificial lake and is also known as Carcassonne Plage. The lake is a recreational lake where you can swim, walk and have a picnic. You can rent pedal boats and there is an inflatable water playground. On shore there are also several possibilities, such as a tree-climbing park and a mini-golf. 
Ile Sainte-Lucie
This peninsula is close to Narbonne and situated in the midst of saltwater lakes. It's perfect if you want some peacefulness and enjoy the nature. There is a path on which you can walk and cycle.
La Franqui Beach
This stretch of beach is great for relaxing. It is a beach of about 5 km long and 1 km wide with beautiful fine sand. The beach is nice and big so you won't be crammed together! You can also enjoy running and walking and there are opportunities for water sports enthusiasts. For example, there is a kite surfing school.
Gouffre de L'Oeil Doux
The gouffre de l'Oeil Doux (soft eye) is a huge limestone rock of about 40 meters high located at an emerald green lake. you can reach the lake by foot and walk all the way up the limestone rocks to enjoy a spectacular view. Note: The lake is not intended for swimming.

Reserve Africaine de Sigean
A  beautiful safari park that can be visited partly by car and partly on foot. All African animals pass by. There is also a section where water birds live in freedom. The park is very busy during the summer period, so it's best to be present immediately when it opens, otherwise you might get stuck in traffic!
Hydrospeed
Hydrospeed is descending the river on a body-board. This looks a bit like rafting, only you are completely by yourself with a body-board. Very cool! Depending on the difficulty, hydrospeed is possible from an age of 10 years old. 
Sail through the Narbonne canal by boat

These little boats can be rented and are equipped with a small motor. You don't need any license to be able to sail the boats. From Narbonne you can sail out on the canal until you come into the nature. This way you'll be able to discover the city and its surroundings in a different way.
Canyoning
Canyoning is a sport during which you follow a river that runs through a gorge. You walk, climb, jump and swim during the route. There are also pieces where you'll have to abseil. Never go out canyoning alone because it's certainly not without its danger.
Tree climbing park
Visit an "Accrobranche" park. These can be found a lot in France. An Accrobranche park is a park in the forest where you can go from tree to tree by climbing and ziplining. There are different routes, varying from easy to difficult. This park for example is located near Carcasonne.
Horseriding
Go horse riding through the beautiful area below Narbonne. This area looks a bit like the Camargue with beautiful salt lakes and water birds. When the weather is good there is even a possibility to ride with the horses into the water! Horse riding is for young and old, it doesn't matter if you have any experience or not. Many providers organize special trips for tourists in the summer period.
Le train rouge
The red train runs through the beautiful landscape of the Aude. The trains run between Axat and Rivestaltes. On the route you pass various cute villages. You can get off the train and visit these villages and then continue with the next train. Recommended!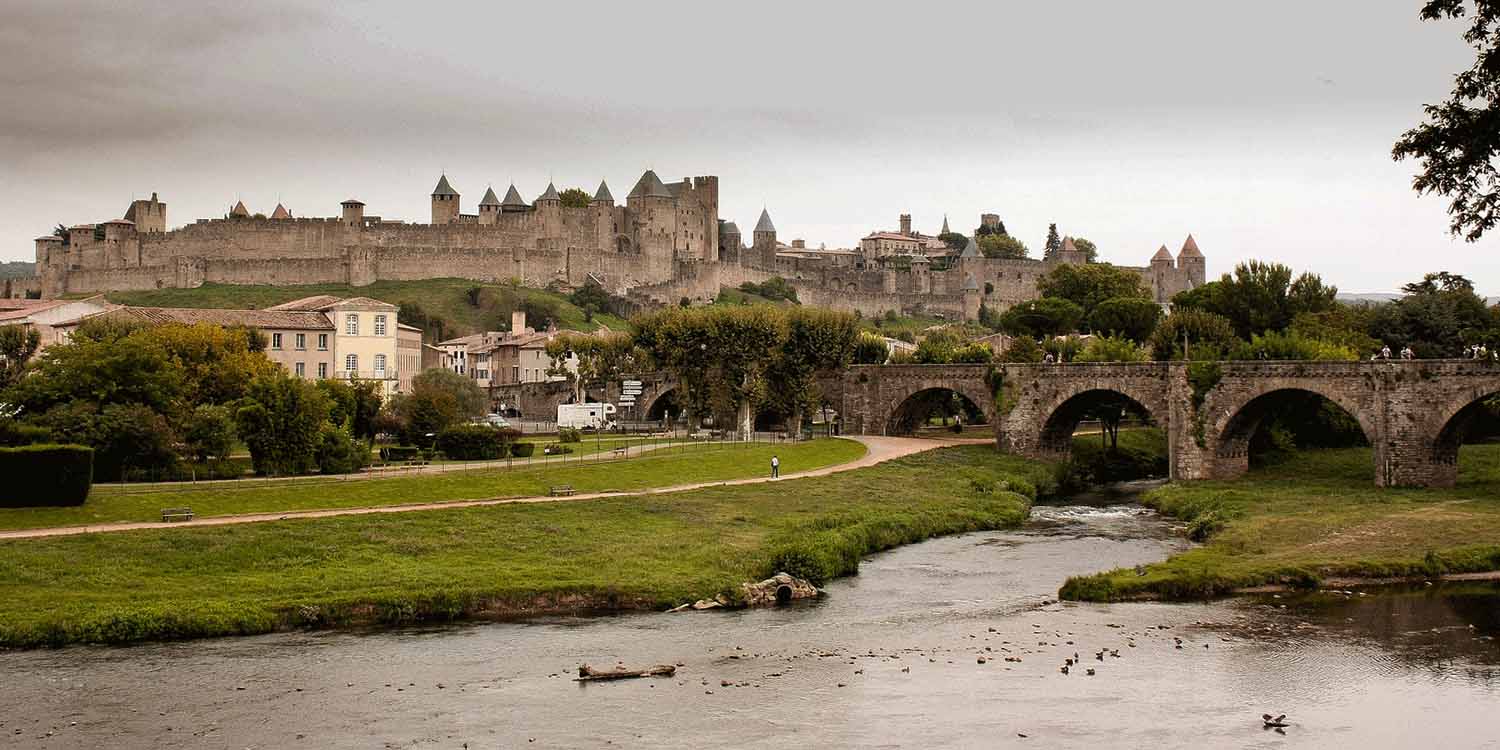 Chateau de Puivert 
The Puivert castle is one of the best preserved Cathar castles in France. The castle is situated on a hill and has a beautiful view over the landscape. The Donjon is well preserved and you can climb it to the top.
High in the mountains are the remains of this ancient fortress. You can reach this castle via a walk and get a beautiful view of the mountains. Birds of prey shows are organized in July and August. In addition, a medieval festival is organized every year in August.
Chateau Puilaurens
This Chateau also belonged to the Cathars and is located on top of a rock formation. The castle is situated at a very strategic location: near the border with Spain. The castle has been well preserved. This gives you a good idea of how people used to live there.