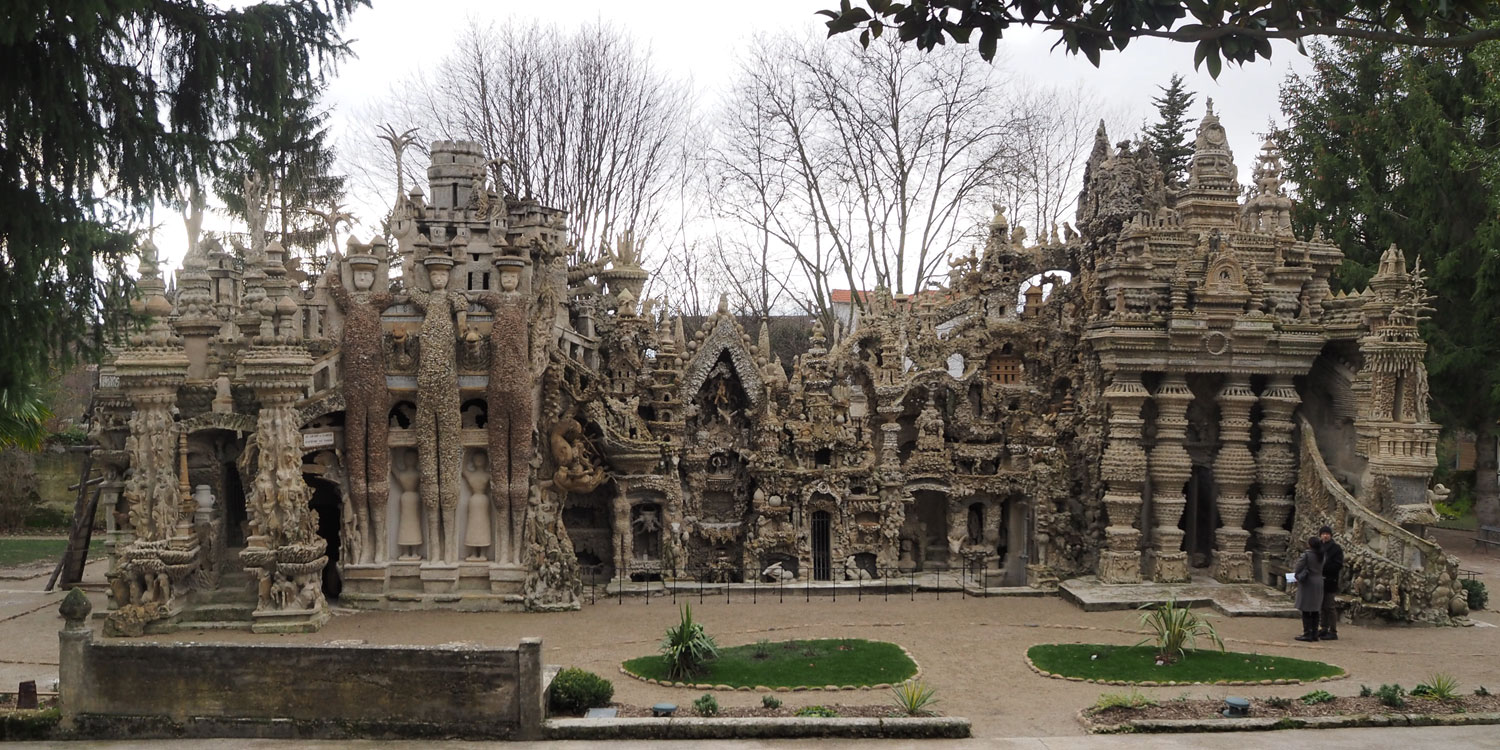 Some time ago I visited the Palais Idéal du Facteur Cheval. It's an extraordinary, artistic and creative castle. There are so many details to see as well as funny texts and animals. In this article I will tell you more about the 'palace', the creator and where you'll be able to find it. 
The castle was made by Mr. Cheval. He was born in the year of 1836 and when he was 31 years old he became a mailman. Every day he walked 43 kilometers on rough terrain, to provide all residents in the area with their mail. Can you imagine, he walked a whole marathon every day.
How it all started
One day when he was walking his usual route, he found a special stone in the river. About the stone he said: "My foot hit a stone and almost made me fall: I wanted to know what it was. It was a stone in such a special shape that I put it in my pocket. The next day I went back to the same place and found other stones that were even more beautiful. I thought: Since nature wants to do the sculpture, I will take on the brickwork and architecture. "
That's how Mr. Cheval started his Palais Idéal. He worked on the palace for 33 years (!). To be able to make the palace bigger and bigger he had to buy small pieces of land whenever he had the money.  The local residents declared him crazy. He has spent all of his free time in the project added bizarre and funny details everywhere. The entire palace is made with what he found in nature, with the exception of the cement. 
One funny thing about this Palais Idéal is that it contains all kinds of things from all over the world.
For example the white house, a mosque and an Indian temple.
Mr. Cheval didn't visit these places, but he was inspired by the first magazines and postcards that became available at that time.
---
Visit
Palais Idéal du Facteur Cheval
Address: 8 Rue du Palais, 26390 Hauterives.
The palace is opened every day, check the openinghours and prizes. 
If you visit with children, there is a maze park nearby.
---
PINTEREST
Did you like this? Why not pin it for later: